I made a command line alarm clock for Java dahil lang hindi ako matulog. I did it last Christmas break and not post it immediately because I said that I will do further improvements on the program.
Kanina, I attempted to add some GUI through NetBeans. But unfortunately, my another try to learn NetBeans failed.
So, I code it again in my most reliable partner, Notepad++! It was going smooth and okay, until I realized that my code is wrong. It is a loop that will wait for the alarm time for it to stop. During the loop, no user interface can be interacted thus no means to stop the program.
Kaya wala rin, hindi ko rin nagawan ng GUI ang program. Kaya ito, ipost ko nalang ang isang screenshot ng aking Java Alarm Clock.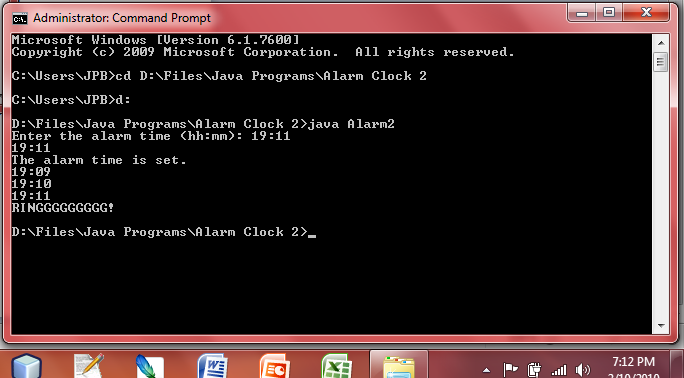 Ganun lang siya, military time pa nga dahil nakakatamad na ayusin ang algorithm. It is just a simple alarm clock that plays Fireflies of the Owl City as its alarm tone.